Top 6 yosemite destinations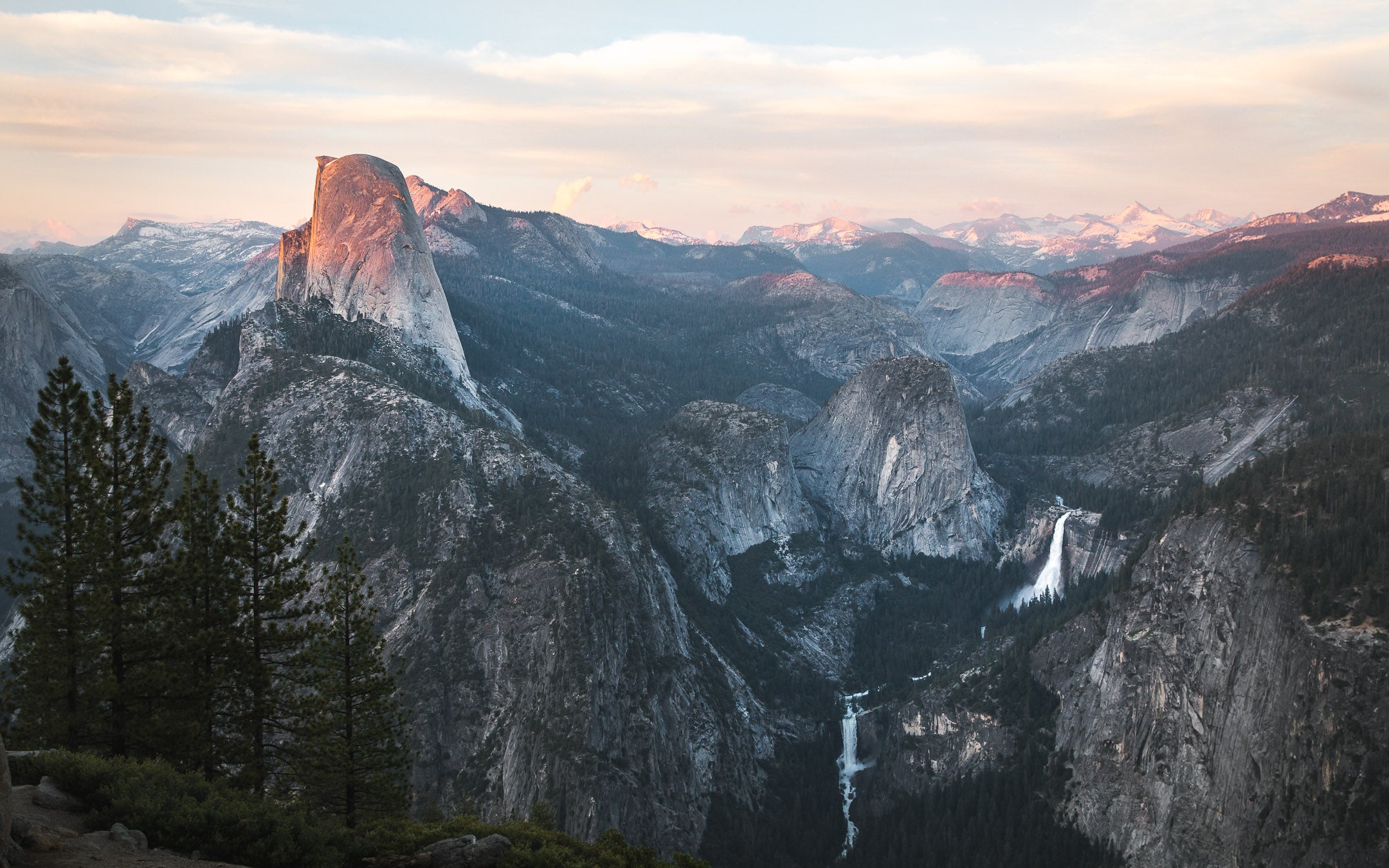 GLACIER POINT
Glacier Point is one of the most amazing lookouts in Yosemite. It hangs directly over Yosemite Village and has the best view of Half-Dome.
Pro Tips:
- Go at night or for sunrise. Why? This is a very popular spot and can be overcrowded during the day and for sunset. Have a peaceful night enjoying the stars or a quiet morning watching the sun peak up behind the mountains.Bring something warm!
- We recommend a warm jacket, Summit Beanie, and a Thermal Mug to keep your favorite beverage hot.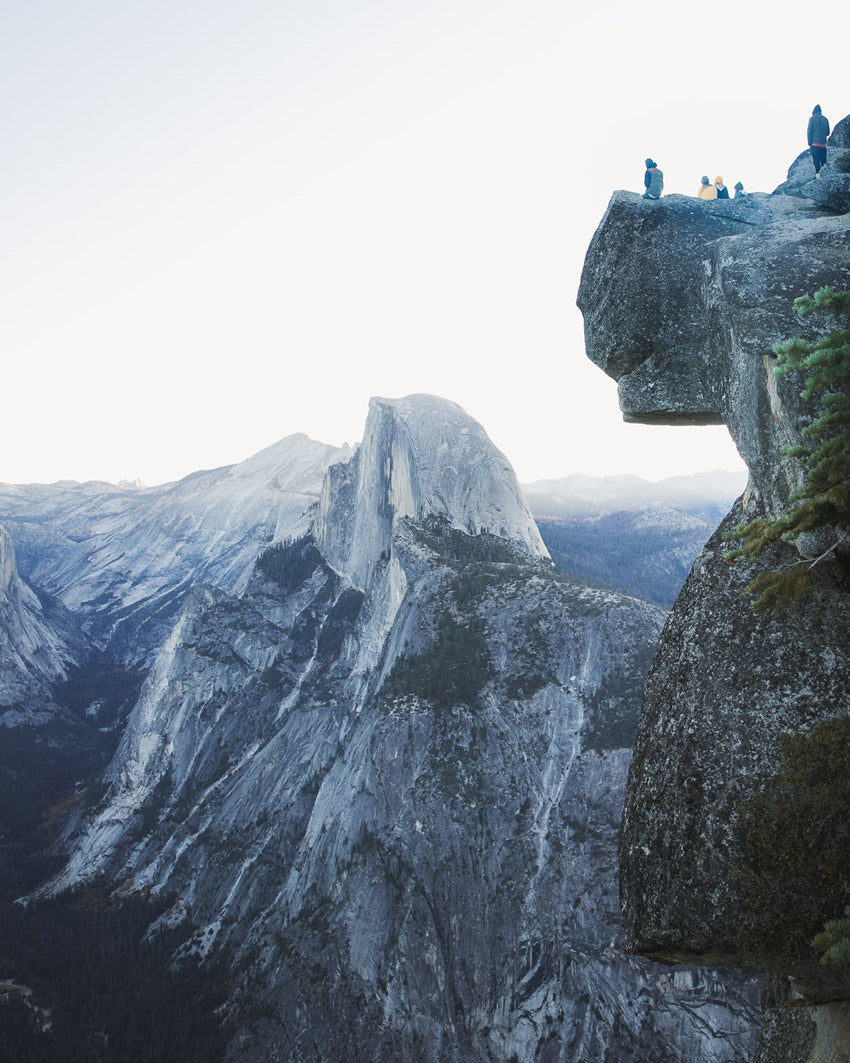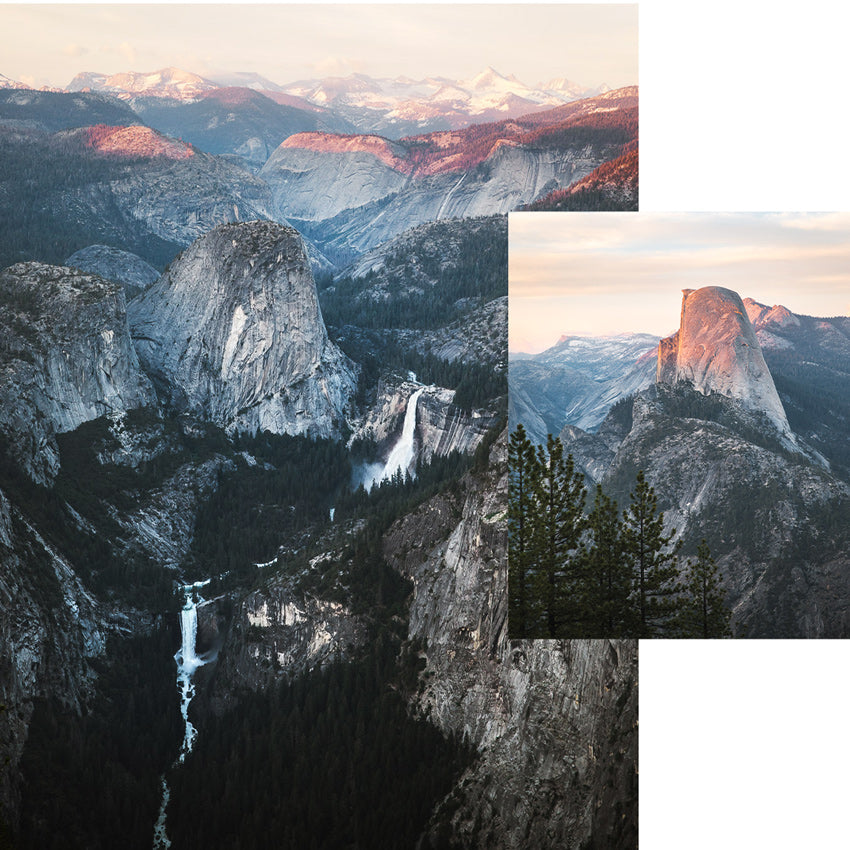 WASHBURN POINT
This is an easily overlooked stop on the way to Glacier Point, but in our opinion it is just as noteworthy!
Pro Tips:
- Go at sunset. Why? While everyone else is headed to Glacier Point, you will find a bit more solitude and still catch the mountains turning pink.
- Bring dinner! We like to make or bring our dinner here because you'll enjoy it while there is still light outside and catch the sunset at the same time.
"Yosemite valley, to me, is a sunrise, a glitter of green and golden wonder in a vast edifice of stone and space" - Ansel Adams
VERNAL FALLS
Vernal Falls is our favorite waterfall. We love it because rather than just looking at it, you get to feel the mist spraying you during the hike.
Pro Tips:
- Go before 9:00 am. Why? This is another very popular spot and can be overcrowded during the day. Going earlier will help beat the crowds and you will have a nice cool hike.
- Bring lunch. The area at the top of the waterfall is the perfect place to have an early lunch!
- Wear grippy shoes and don't be afraid to get wet.
- Bring a towel! If you go in the spring or summer, you are almost guaranteed to get pretty wet (which is the best part), so you will want to dry off at the top and back at the bottom. We recommend one of our Adventure Towels because they are lightweight and dry fast.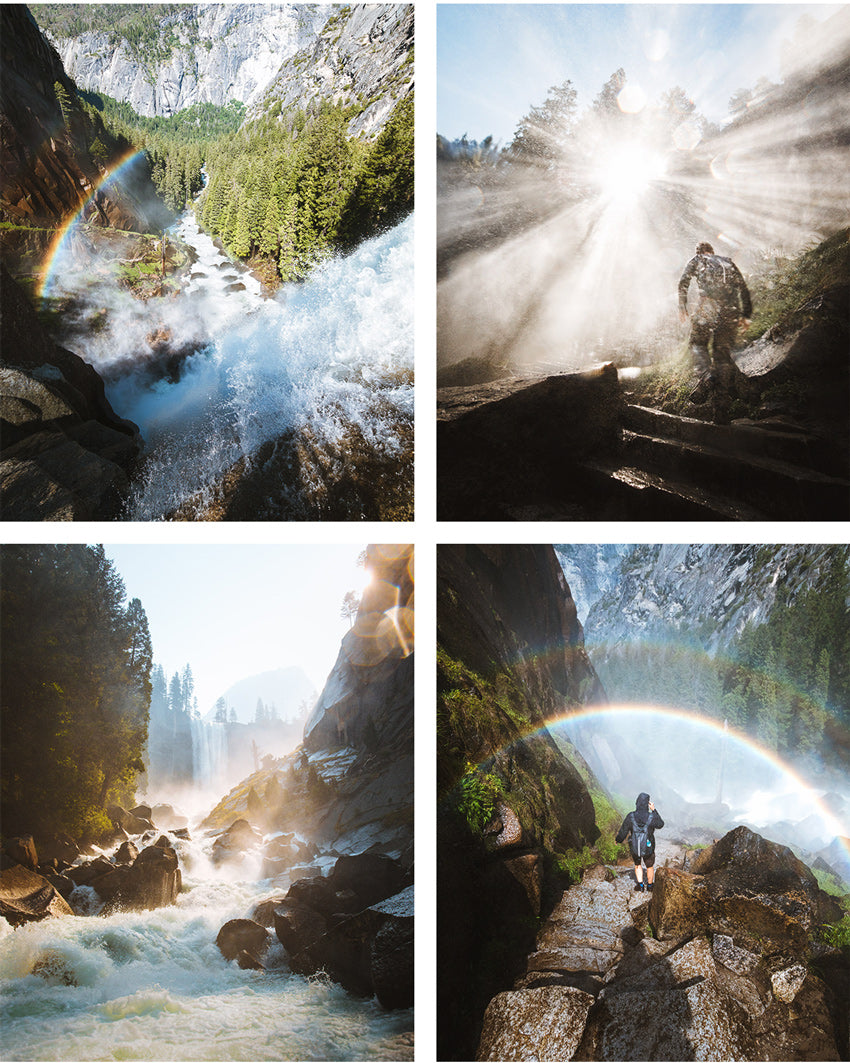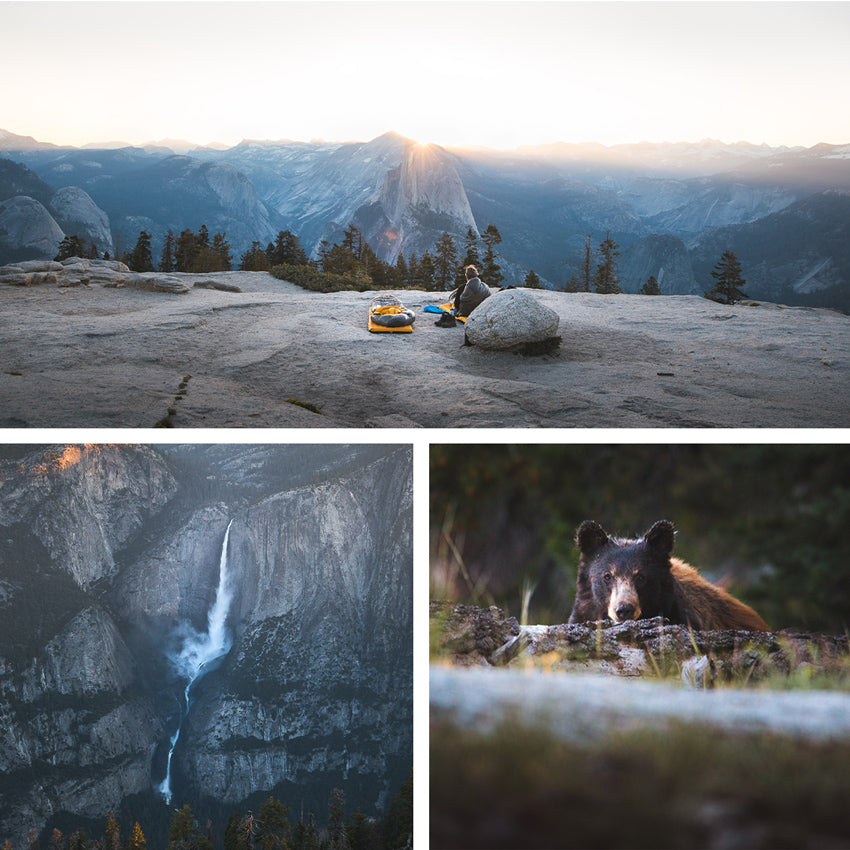 SENTINEL DOME
Sentinel Dome offers a full 360 degree view of Yosemite.
Pro Tips:
- Go at night or while it is still dark in the early morning hours. Why? You can lay on the top of the dome and star gaze, then watch the stars fade and turn into a spectacular sunrise.
- Look for bears!
- Bring something warm! We recommend a warm jacket or sleeping bag, Summit Beanie, and a Thermal Mug to keep your favorite beverage hot.
TAFT POINT
Taft Point is hands down the best place to watch the sunset in Yosemite. There are massive flat slabs of granite to sit on and it includes an amazing view of El Capitan and Three Brothers.
Pro Tips:
- Start hiking an hour before sunset. Why? You will arrive just in time to relax and enjoy the radiant light.
- Bring bug spray! Though there wont be many bugs at the point, the hike over can have lots depending on what time of year it is. Also, bring a light for the way back.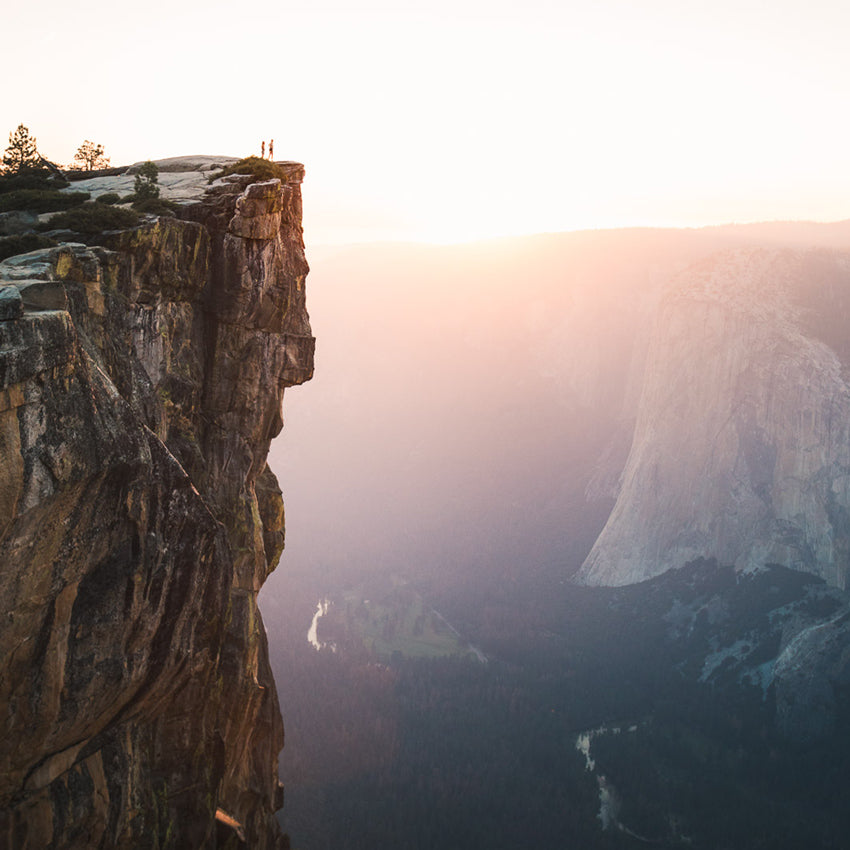 "Yosemite Park is a place of rest, a refuge from the roar and dust and weary, nervous, wasting work of the lowlands, in which one gains the advantages of both solitude and society" - John Muir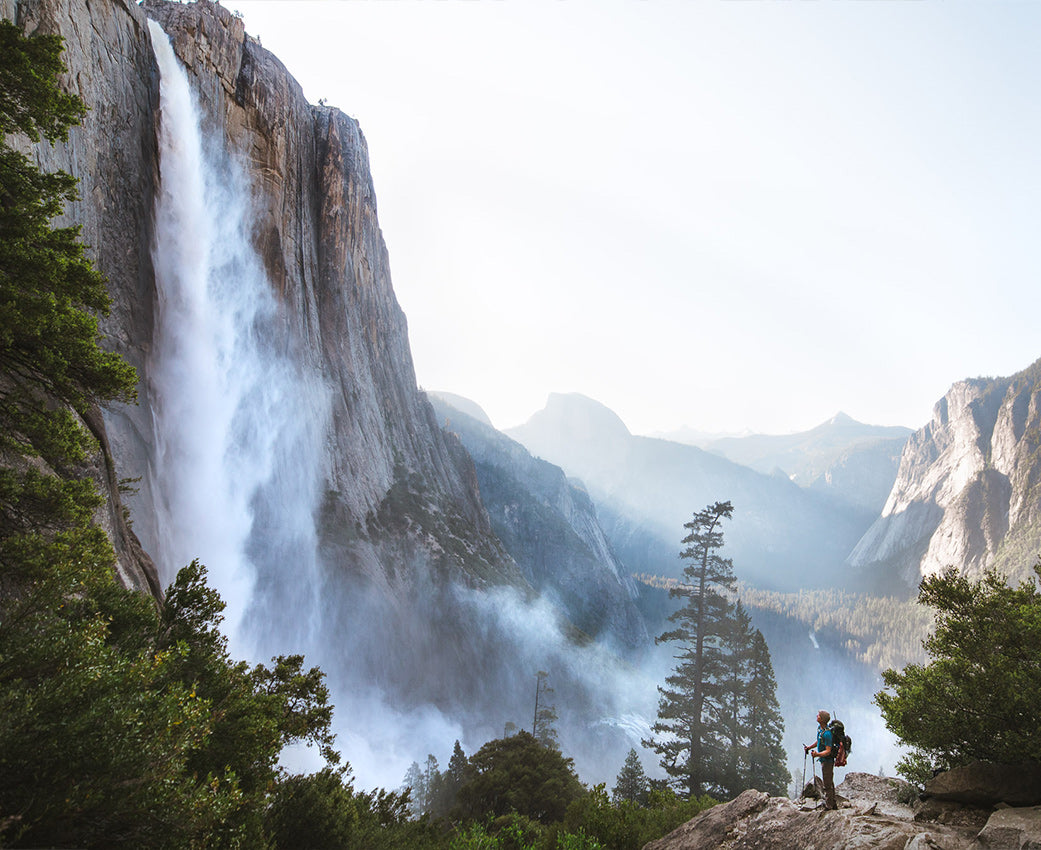 YOSEMITE FALLS
Yosemite Falls is the highest waterfall in North America and the 5th highest in the world. The lower falls are easily accessed and the upper falls are a bit of a hike.
Pro Tips:
- Check out the lower falls and then hike to the point in the photo to the left for the upper falls. You can continue all the way to the top, but the best view of the falls is half way up.
- This hike has a lot of elevation gain in a short distance, so bring plenty of water. We recommend bringing a Glacier Bottle for all day hydration. We also recommend bringing an Adventure Towel incase you get soaked by the mist.
CONCLUSION
These are just some of our favorite spots, hopefully this guide helps you get started planning your first trip or find some new ideas for your next one. Yosemite is a place of jaw dropping beauty and you should go visit as soon as you can!
PS: We would love if you tagged us @minaretmtn on your adventure!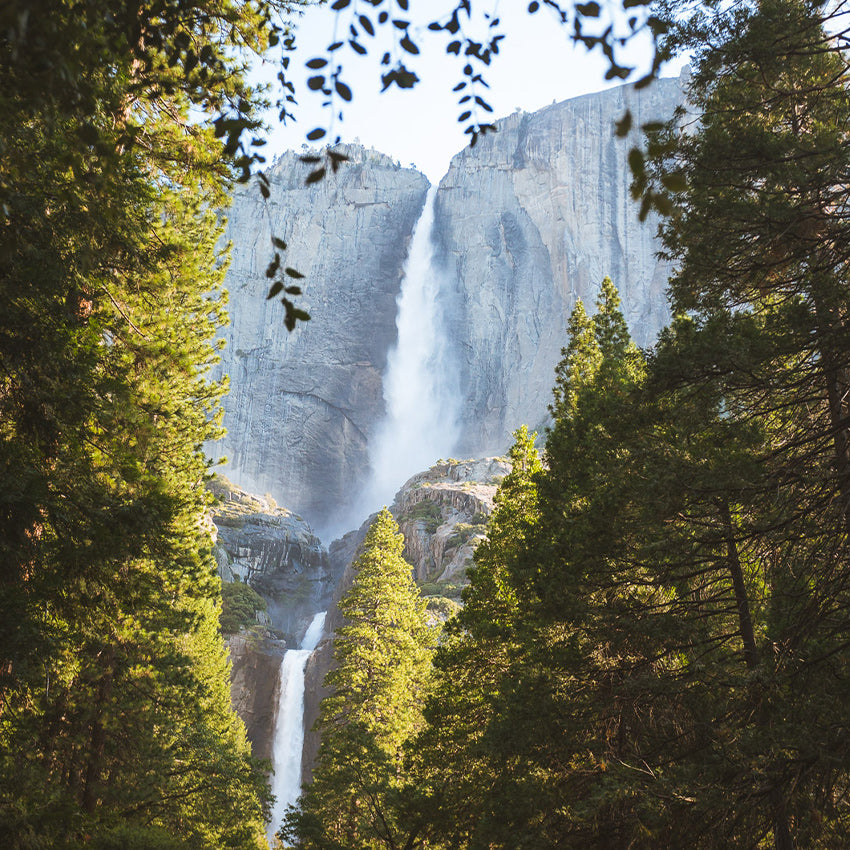 "The mountains are calling and I must go" - John Muir